(24 February 1929 – 21 February 2005)
was a renowned Polish painter, photographer, and sculptor.
Beksiński
executed his paintings and drawings either in what he called a '
Baroque
' or a '
Gothic'
'manner. The first style is dominated by representation, with the best-known examples coming from his fantastic realism period when he painted disturbing images of a surrealistic, nightmarish environment. The second style is more abstract, being dominated by form, and is typified by Beksiński's later paintings.
Surrealism
is a cultural movement that began in the early 1920s, and is best known for its visual artworks and writings. Surrealist works feature the element of surprise, unexpected juxtapositions and non sequitur; however, many Surrealist artists and writers regard their work as an expression of the philosophical movement first and foremost, with the works being an artefact. Leader André Breton was explicit in his assertion that Surrealism was above all a revolutionary movement. Surrealism developed out of the Dada activities during World War I and the most important center of the movement was Paris. From the 1920s onward, the movement spread around the globe, eventually affecting the visual arts, literature, film, and music of many countries and languages, as well as political thought and practice, philosophy, and social theory.
"It misses the point to ask me what scenes in my paintings 'mean'. Simply, I do not know, myself. Moreover, I am not at all interested in knowing." Zdzislaw Beksinski was born in Poland in the town of Sanok near the Carpathians Mountains in 1929. After a childhood was spent during the Second World War, Beksinski went on to university where he studied architecture in Cracow. Subsequent to this education he spent several years as a construction site supervisor, a job he hated, frought with pressures and countless boring details. He would soon throw himself into the arts. In 1958, Beksinski began to gain critical praise for his photography, and later went on to drawing. His highly detailed drawings are often quite large, and may remind some of the works of Ernst Fuchs in their intricate, and nearly obsessive rendering. Beksinski eventually threw himself into painting with a passion, and worked constantly, always to the strains of classical music. He soon became the leading figure in contemporary Polish art. Beksinski and his family moved to Warsaw in 1977. The artist had many exhibitions throughout his native Poland and Europe. He rarely attended any of them. Bekinski's art hangs in the National Museums Warsaw, Sanok, Crakow, Poznan, and the Goteborgs Art Museum in Sweden. Zdzislaw Beksinski was murdered in his home during a robbery attempt in 2005. "I have quite simply been trying, from the very beginning, to paint beautiful paintings."
Drawings from the 1960s
Beksinki's remarkable drawings possess a strength in both mood and subject matter. Like his later paintings, they are intensely haunting and mysterious. The drawings, particularly, project a nightmarish quality reminiscent of the surrealist, Bohemian master, Alfred Kubin. "I react strongly to images that have no obvious answer to their mysteries. If there is a key to their construction, they are simply illustration."
Paintings from the 1970s
Beksinski began painting in oils on masonite around the year 1970. His ability to manipulate the effects of light quickly became a hallmark of his work, and can only be compared with the renown abilities of William Turner. Beksinski's paintings aremasterfully rendered, monumental enigmans. One thing they share is an aesthetic of beauty so potent that it overpowers any desperate nature of the given subject matter, as is similarly the case with Swiss artist, H.R. Giger. The paintings as a whole are wonderfully dark, and allow the viewer to interperet them as they will, as they will certainly get no help from this particular artist. As Magritte said: "The purpose of art is mystery." "The blend of vivid colors in relation to other more subdued colors in my paintings is like a musical theme. As in a symphony, a motif occurs, is blurred, comes back in crescendo, is finally accentuated and becomes pure and complete."
Paintings from the 1980s
"Meaning is meaningless to me. I do not care for symbolism and I paint what I paint without medatating on a story."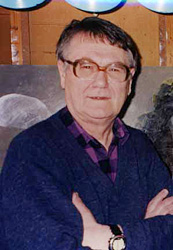 Paintings and Computer Graphics from the 1990s Beksniski's paintings have grown less representational over the years and now seem almost abstract in nature. Color and texture and now the proncipal themes in themselves. Not so odd, as the artist began his career in the abstract realm. His recent computer art, however, continues the lineage of fantastic realism, and the artist never allows the technology to get in the way of that he is attempting to convey creatively. Beksinski was murdered in February of 2005, during a robbery attempt at his flat in Warsaw. He will be remembered as a brilliant artist, and by those who knew him, as a docile man with a profound wit and keen sense of the human condition. I cherish the time we spent corresponding as friends, self-aware neurotics who could not wait to try and top the other. What a remarkeble piece of work he was. A bit of Woody Allen, a dash of Oscar Wilde for spice, and brushes of Francisco Goya and William Turner. – James Cowan
You absorb contemporaneity mainly or even solely through a music of violent impact. How does it affect your artistic vision?
Z.B.:
" Well, let us not exaggerate. I simply like music and listen to it while working. As for the contemporary, I perceive it as probably everyone else does, though it has little effect on what I do. Nor am I convinced that music really acts as a direct inspiration. For instance, pop music does not inspire me, but acts as a stimulant, like coffee or sugar. It is pure pleasure devoid of the element of mental experience. I rrjean thing is generally true, but certainly there are exceptions to this rule as there are to all other rules. When I paint to the sound of pop music, my body moves in away which makes work more difficult, so what I do appears quite senseless. But when I turn the volume down, I feel a lack of something without which I cannot work. As regards classical music, i can really speak about something bordering on inspiration. It simply seems to me that I think about a painting in terms of a late 19th century symphonic poem. And that is why I do not care what is going to be painted; the important thing cannot be expressed in words but I do hope I am able to convey it in my best paintings. It is a kind of elation which cannot be defined but which really exists and has found its most powerful expression so far in post-Wagnerian music. This is speaking generally, for I feel it also in the works of much later composers, such as Shostakovich, Honegger or Britten."
Enthousiasts of your art argue that it reveals the depths of an extreme existential experience. Opponents see it as a masterly show of a fairly stereotype horror. How would you verbalise the message it conveys?
Z.B.:
" I think that all I want is pretty paintings. Simply pretty. You may easily call me a poseur, it would not be the first time that I meet with such a question and such a reaction to my answer. But I really want to paint pretty pictures. At the source of my definition of a pretty painting lies a large Baroque or 19th century altar piece or a dark landscape in an old home, hanging in company of family portraits and other landscapes; in such a company there would undoubtedly be a place for a painting by Vermeer. That does not exhaust the subject but I am quite sure that I do not want to produce horror… I would find it a very nice compliment indeed if someone told me that what I paint is morbid. I am very strongly attracted to the morbid, which does not imply that I relish the common cold; what I mean is morbidity in 19th century understanding of the term. I mean something which attracted Thomas Mann. Hence, in some respects, Wojtkiewicz is closer to me than Vermeer, but only in some respects. Perhaps the synthesis for which I astrive is quite inconsistent and unattainable…"